New & Noteworthy: Smithsonian NMAAHC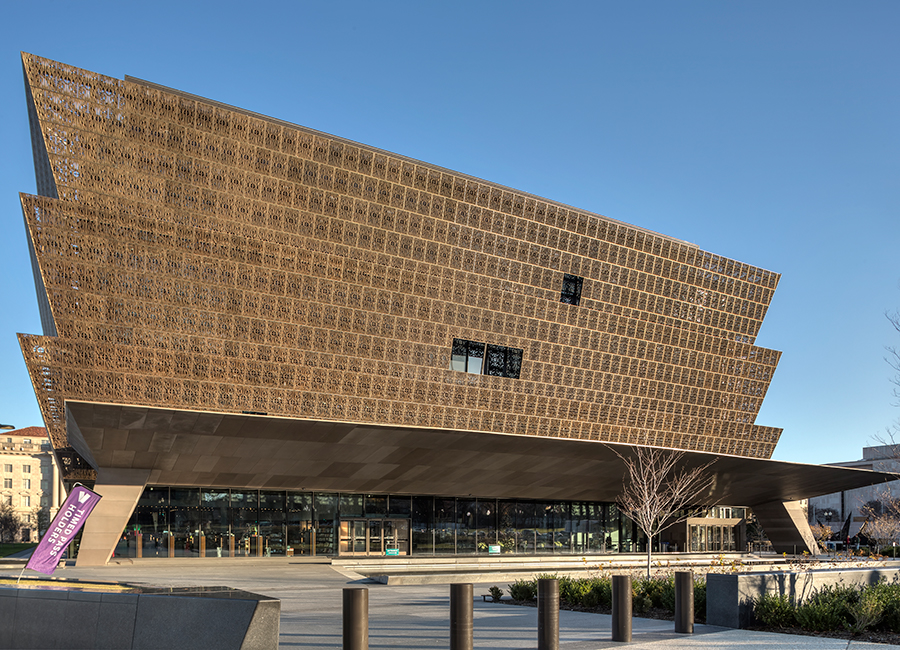 Weeks after its initial opening, the new Smithsonian Institution National Museum of African American History & Culture (NMAAHC) remains a dramatic and noteworthy new rainscreen design along the National Mall in Washington, DC.
Notable for securing the last remaining building site along the National Mall, the new museum is the pinnacle of sustainable design, where form meets function – articulated in a design aesthetic that demonstrates both symbolism and sustainability.
Tasked with being the most sustainable national museum ever built, the NMAAHC is track to achieve a LEED Gold certification from the U.S. Green Building Council (USGBC). Cladding Corp is proud to have teamed up with the design team  on the project to provide our concealed Alpha Vci.40 engineered rainscreen assembly for the custom aggregate concrete panels manufactured by TAKTL® Facade + Wall Elements.
In addition to the bronze colored corona panels that envelope the dramatic exterior, ECO Cladding's Alpha Vci.40 concealed undercut anchor system was utilized to install the large format fiber concrete panels by TAKTL®  that formed the base and backdrop for the more elaborate cast-aluminum corona panels and glass curtainwall.
The museum's design was the result of an intense collaboration among Freelon Group (now Perkins+Will) and two other architects: David Adjaye (Adjaye Associates) and the late Max Bond (Davis Brody Bond). They came together in 2008 as Freedon Adjaye Bond / SmithGroup.  Collaboration was also the theme among the project's contractors, including Enclos and Northstar, and CM Clark.