Minimalist Red Barn Clad in SWISSPEARL®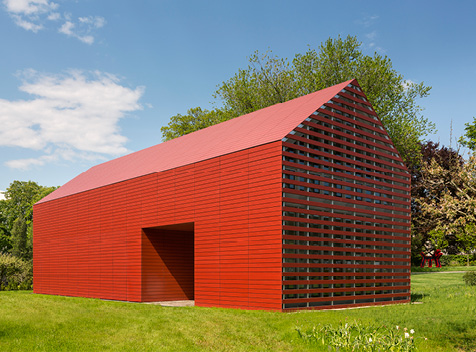 Last year was a big year for recognition of Roger Ferris + Partners' innovative minimalist take on the red barns that so famously dot the New England countryside.  And the accolades for this daring fiber cement rainscreen design just keep on coming... Cladding Corp is grateful for our long-standing partnership with the design team at Roger Ferris + Partners and for their committment to using natural materials in their energy-efficient rainscreen designs.
By design, the Red Barn functions as a dramatic counterpoint of modern, minimalist architecture on a traditional Conneticut coastal estate. The project incorporated a Cladding Corp SWISSPEARL® rainscreen facade and functions as a 2,500 SF barn live/work prototype that focused on a seamless integration into the landscape, framing views to Long Island Sound. So far, the project has won numerous awards including: 2016 AIA Connecticut Honorable Mention, 2016 Chicago Athenaeum American Architecture Award, and Architizer A+ 2016 Popular Choice Winner.
Our systems for fiber cement cladding, in partnership with ECO Cladding, are also designed to give architects aesthetic freedom to incorporate concealed, lap-siding or visible attachments. There are many companies promoting fiber cement panels, but only Cladding Corp has the premier fiber cement panel plus an engineered assembly solution that guarantees optimal performance and aesthetics. 

For more photos of this project, visit Roger Ferris + Partners.