CI Spotlight: Hunter Panels Xci Polyiso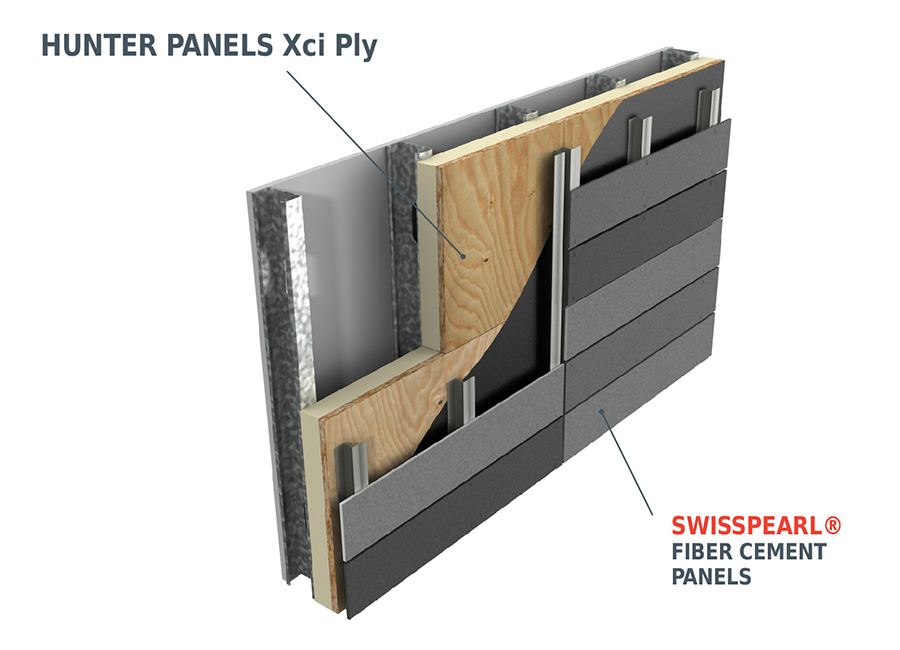 For the first time, Hunter Panels, innovators in polyiso rigid insulation, and Cladding Corp, North America's rainscreen solution provider, have developed a complete, cost-effective rainscreen wall solution that addresses all aspects of the building envelope.

Our partnership delivers a single source rainscreen cladding wall assembly – including the connections of the fiber cement, ceramic or terracotta system to the Hunter Xci Ply panels and to the backup wall.  Meeting the most current ASHRAE 90.1, IECC, IBC and IRC standards is one of the most critical requirements for designers and installers alike. Hunter Xci Ply's high thermal rigid insulation panel, coupled with an engineered drained and back-ventilated rainscreen assembly from Cladding Corp, provides a complete continuous insulation (ci) solution that allows maximum installation flexibility and industry leading performance.
Get to Know Hunter Xci Ply

Hunter Xci Ply is a high thermal rigid insulation panel composed of a closed cell polyisocyanurate foam core bonded to a premium performance coated glass facer on one side and 5/8" or 3⁄4" fire treated plywood on the other. It is designed for use in commercial wall applications to provide continuous insulation within the building envelope. It serves as a flexible solution for various backup wall types, including steel stud, block, tilt-up and wood stud.
FEATURES AND BENEFITS
• Polyiso offers highest R-value per inch of any foam plastic board insulation
• Designed for use in continuous insulation to assist in meeting the most current ASHRAE 90.1, IECC, IBC and IRC standards
• A superior combination of high insulating properties and mechanically attachable surface
• Manufactured with NexGen Chemistry: Contains no CFCs, HCFCs, is Zero ODP, and has virtually no GWP
• Incorporates APA-TECO Rated Exposure Fire Treated Plywood
• Provides improved dimensional stability and fire performance
Learn More
Terra5 / Hunter Panels Xci Polyiso Solution
Cem5 / Hunter Panels Xci Polyiso Solution
Ceramic5 / Hunter Panels Xci Polyiso Solution