Cladding Corp's Terra5  rainscreen demonstrates that rainscreen systems are a perfect fit for retrofitting an old building.  The Terra5 Ceram tiles were chosen to reclad one of the largest projects under construction in Vancouver, Canada called the Pacific Palisades Towers. The project is featured in an article in the Journal of Commerce published by Reed Construction Data titled "Giving Old Concrete Buildings New Life".
"The retrofit or reclad market is a wonderful fit for rainscreen cladding systems", says David Stutts of Cladding Corp.  "Cladding Corp is focused on bringing innovative design and engineered solutions to the construction industry."  The goal of the company is simply to be "The 1st Name in Rainscreen."
Words from the author concerning the "recycling" of old buildings:
Vancouver architect Wing Leung calls it giving old concrete buildings new life.
Others call it renewing or recycling buildings.
While heritage buildings are often recycled, there is an emerging trend to reuse concrete buildings constructed in the 1960s and 70s.
"It will become more and more prominent in the future," said Leung, who is spearheading the redesign of one of the largest such projects in Vancouver – the Pacific Palisades twin towers.
Old building needing a facelift…..meet Terra5.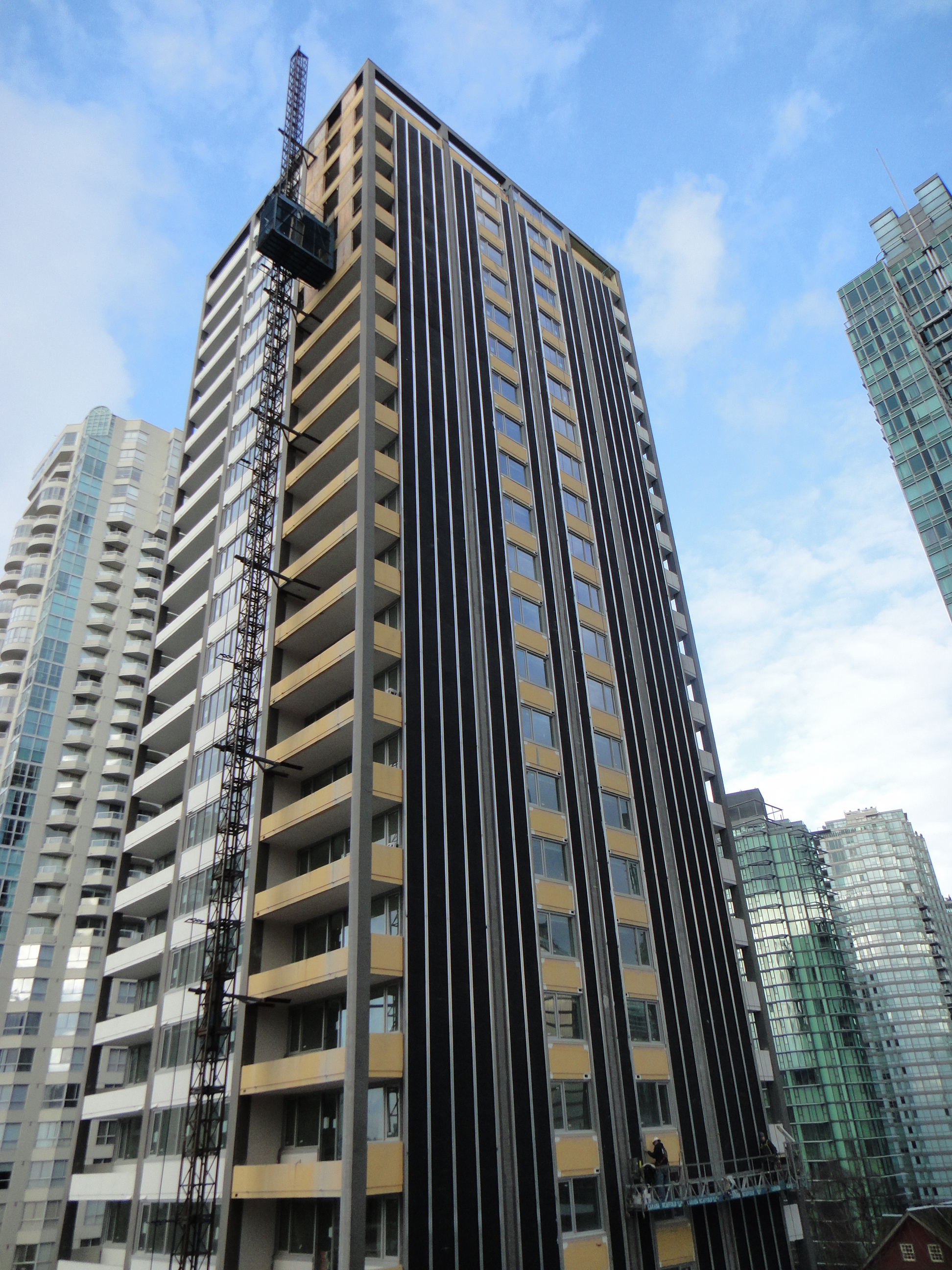 The article continues:
Originally the exterior stucco was only going to be resealed, but further examination found some fatigue at higher elevations.
The stucco has been removed.
New membrane and rails, to hold the new ceramic tile that will face the towers, are being installed.
Terra5 terracotta, along with an engineered attachment system, has been chosen to grace these towers.
More from the author:
They were recently acquired by Austeville Properties for conversion back to rental units.
"This is a very enlightened client," said Leung, adding the work could have been phased in.
But, Austeville decided to strip the exterior and gut the interiors.
"It was also an interesting project," he said.
Removing some finishes restored the era's post-modernist design on exterior lower faces.
The construction work is being done by Haebler Construction.
"The work has gone very well," said senior project manager Peter Bazilewich.