In response to input from the design community, Cladding Corp is pleased to offer LINEARIS – fiber cement siding planks for rainscreen applications.  Swisspearl® continues to expand their industry-leading expertise regarding core, coloration and application of high-end cement composite façade panels.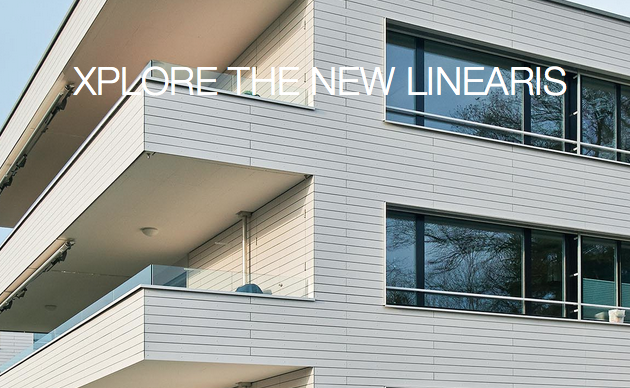 With new standards for sustainability and energy efficiency and conservation, designers across the United States have found an increasing need for cost-effective, long-lasting material solutions for retrofit and renovation applications.  Cladding Corp is grateful to now have one more way to address this need – this time through SwissPearl's ® LINEARIS format facade panel.  Recently released, the linear format of these new plank shaped panels is both flexible and adaptable to the many variables of retrofit and renovation projects.  Geometry, window placement and existing wall conditions can all be adequately addressed by a variety of layouts using these unique and versatile fiber cement composite panels.
In addition, the design potential of the new format is virtually limitless.  LINEARIS panels are available in Swisspearl's® three most popular through-color series, CARAT, REFLEX and XPRESSIV.  Across the country, architects are mixing various colors, finishes and layout patterns to create bold and noteworthy designs, while still effectively managing within their design budget for the exterior skin.  Because these panels are of the same quality and caliber of SwissPearl's large format panels, LINEARIS planks are easy to install and the completed installed requires little to no maintenance over the 40+ lifespan of the exterior facade!

LINEARIS panels are available in 147mm (5.79") and 300mm (11.81") high planks at lengths of 1500mm (59.06") or 2500mm (98.43").  To make designing with the format even more user-friendly, Cladding Corp has developed a Stock Order Program for the LINEARIS product line.
STOCK FORMAT PROGRAM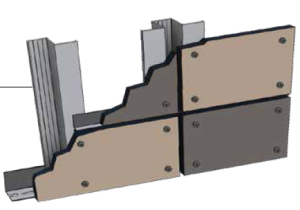 LINEARIS panels come ready to be installed over a light-weight rainscreen attachment system.  The undrilled panels are shipped on pallets in quantities of 208 or 104 pieces.  Centering tools and drills are provided with each LINEARIS shipment and 10 foot Zees and Hats are pre-punched and painted in black – ready to install.  Even color-matched rivets are provided.  Contact your Cladding Corp sales representative for more information and pricing for this program or simply contact us to learn more.