Metallic Collection
Reaching beyond the boundaries of traditional porcelain stone, the Metallic Collection serves as a creative reinterpretation of the patinas of metal and the textures.  One of the most popular ceramic series for exterior cladding, Metallic's 9 color options stand as one of the most cost-effective alternatives to the patinas of weathered steel panels.  Available at a very competitive price point when paired with the F2.20 Visible Clip System.
Product Sizes
30x60cm [11.81″ x 23.62″]
60x60cm [23.62″ x 23.62″]
60x120cm [23.62″ x 47.24″]
Color Palette
OX03 – Bright Grey
CI01- Cast Iron Black
CI02 – Cast Iron Oxidium
CI03 – Cast Iron White
ML01 – Copper
ML02 – Titanium
Attachment Systems
Complete details (both CAD and PDF versions) are available in the download section of the website.
F2.20 Clip System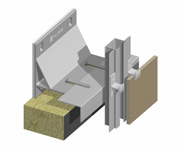 The F2.20 System is a cost-effective visible clip attachment system used in anchoring ceramic panels for exterior cladding applications.
F1.40 Concealed System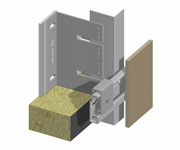 The F1.40 System serves as the primary attachment method for concealed fastening using undercut anchors for fiber cement, ceramic, fiber concrete, high-pressure laminate, and natural stone.