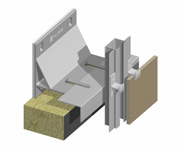 F2.20 Ceramic Tile Clip System
This attachment system is an economical mechanically fixed solution for ceramic panels.  The anchoring clips, which are visible on the face of the panels, are either aluminum or stainless steel and can be color matched to the color of the cladding panel.  Installation with this system is straightforward and uncomplicated.  System design and sub-framing layout are dependent upon project-specific system analysis.
System Details
Complete details (both CAD and PDF versions) are available in the download section of the website.
Click here for a "F2.20 System Overview" Document.