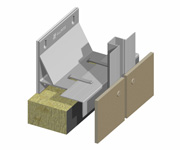 F2.10 Rivet System
The Black & White Collection highlights the stark and timeless visual impact of the blackest black and whitest white. This collection in porcelain is ideal for rainscreen designs that require an exterior surface that is true black or brilliant white.  Selected by the NYC Transit Authority for use in the renovation of the Whitehall Station South Ferry Terminal, this panel is uniquely pollutant-resistant when in the polished surface finish.  2 colors – 2 finishes either natural or polished.  System design and sub-framing layout are dependent upon project-specific system analysis.
System Details
Complete details (both CAD and PDF versions) are available in the download http://claddingcorp.com/downloads/ section of the website.
Click here for a "F2.10 System Overview" document.