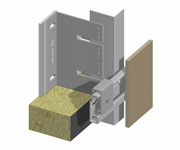 F1.40 Concealed System
A wide variety of rainscreen cladding products can be attached mechanically and can be concealed using undercut anchors. Installation is straightforward and efficient, with hanger clips attached to the back of the panels with special bolts that are inserted into the undercut hole and fixed by tightening the screws. Each panel must be fastened with at least four individual anchors.
This system can be used for either concrete block / masonry or stud wall design.  System design and sub-framing layout are dependent upon project-specific system analysis.
Systems Details
Complete details (both CAD and PDF versions) are available in the download section of the website.
Click here for a "F1.40 System Overview" document.