The Next Generation of Wall Design
A successful drained and back-ventilated rainscreen is not limited to the cladding materials and sub-framing system alone, it requires an integration of educated design based upon a holistic approach to the exterior envelope. Cladding Corp is an advocate for this "outside-in" approach, and base our systems around The 5 Principles of Rainscreen Cladding Design, starting with the selection of the cladding material and ending with the inner waterproofing of the wall.
Why is this important? With an ever-increasing shift towards sustainable design, the exterior envelope of the building offers some of the most significant opportunities to create high performance buildings that leave the least impact on the environment. In addition, is critical to understand the material deflection and thermal properties, spanning capabilities and water absorption of the cladding material, as these factors will influence the engineering of the substructure and the overall wall assembly.
Get to Know System5
System5 is a fully integrated rainscreen approach that begins with the outer skin of the wall and works its way back to the air/water barrier (AWB). Rather than isolating the design of the cladding materials independent of the entire wall assembly, System5 focuses on all of the scientific principals and elements required to create an effectively designed drained and back-ventilated rainscreen assembly.  System5 Rainscreens address The 5 Principles of Rainscreen Cladding Design with consideration for the cladding material, outer moisture control, cavity design, engineered subframing and inner moisture control.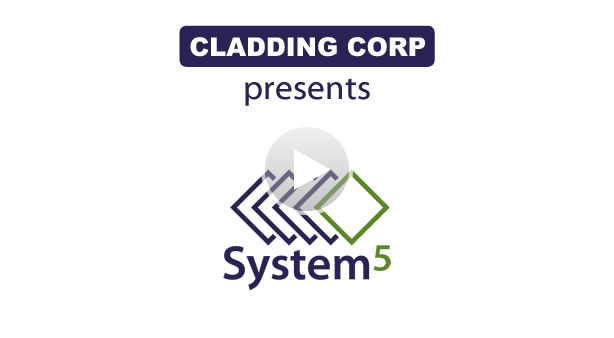 Unlike other rainscreen product suppliers who offer panel-only or limited, "engineer-your-own" attachment components and systems, Cladding Corp delivers a single source rainscreen cladding assembly – including the connections of the cladding panels, design of the subframing and attachment to the backup wall.  Click here to download the System5 Brochure.